---
General chat thread for Monster High - Hina Ichigo - 02-10-2014 06:04 AM

I decided the Monster High dolls needed a general chat thread



I've heard Slo Mo has started popping in stores across Canada and a few people in the US have found him too. So you may want to keep an eye out for him when you are out shopping. I haven't been on a hunt for Monster High since I got Viperine in early December

---
RE: General chat thread for Monster High - Alina_Mau - 02-10-2014 06:47 AM

My last doll was Viperine last month but I'm hoping that Valentines day will prompt some kind of sale and that if I go searching this week I might find something cute! ♥

So far I only collect girls and one of each character so I'm not looking for Slo Mo for collecting but I have been looking to see if he's around and I still haven't seen him in New Hampshire yet!


---
RE: General chat thread for Monster High - TrueFan - 02-10-2014 10:36 AM

I'm waiting for those mixed-up ones, that represent two of the characters at once.


---
RE: General chat thread for Monster High - Severity - 02-10-2014 05:18 PM

I've heard that the toys r us Frankie/Jackson set was being found too. I was actually by the toys r us --about an hour from home -- yesterday, but no time to look and no money if I found it! I don't really like Frankie much but dying for a Jackson.

I have two creative MH projects I'm working on at the moment: I'm redressing a custom Jinafire I bought on eBay and decided I didn't care for in person, so I'm making her a new outfit before I try reselling her. She has a pretty baby pink wig and a very delicate faceup, very sweet, but I decided I liked my stock new Scaremester Jina better! So hopefully I'll find her a nice new home. So far I made her a black v-neck shirt, a vintage floral silk jacket, and am planning on making her a gold and pink silk high waisted skirt. :3 my sewing's been a bit slowed: I fell and hurt my hands about a week ago and the bruising is clearing up!

I love doing re-roots and I have one of those in progress too: I'm doing a Spectra I got in a bait lot. The hair I'm using is Saran in a black/lavender/white/baby pink blend and it's turning out pretty. I'm teaching my mom how to do the reroots and she's doing a Draculaura in blonde/baby pink.

So those are my current projects! I'd still like a Honey and I'd kind of like that Jackson, but I'm not really on any mh hunts right now. I'm really enamored with my Viperine, oh my goodness. I did a redress of her (alllll in stretch knits and I hate sewing knits!). She's a bit 70s glam inspired: a short metallic gold skirt, black shirt, metallic pink long coat :3


---
RE: General chat thread for Monster High - Alina_Mau - 02-11-2014 12:12 PM

@ Severity I'd LOVE to see pics! I'm really interested in making new outfits for my dolls since I don't get to buy dolls often. At the moment I need Velcro but once I do I plan to get to work on making fancy dresses *w* ♥

I'm pretty in love with Viperine so I'd REALLY love to see what you made for her, I want to make her a flowey caftan when I get the chance ;3

@ True Fan I'm pretty excited to see better pictures of the Fusions. The new characters from the fusions line all sound amazing and I'm really curious to see how detailed they plan to make the fused current characters or if they're just gonna cop out and re-use/re-color everything. So far the pic I've seen of Dracubecca looks honestly gorgeous


---
RE: General chat thread for Monster High - TrueFan - 02-11-2014 12:18 PM

I'm anxious for a new Ghoulia.


---
RE: General chat thread for Monster High - Severity - 02-13-2014 07:22 AM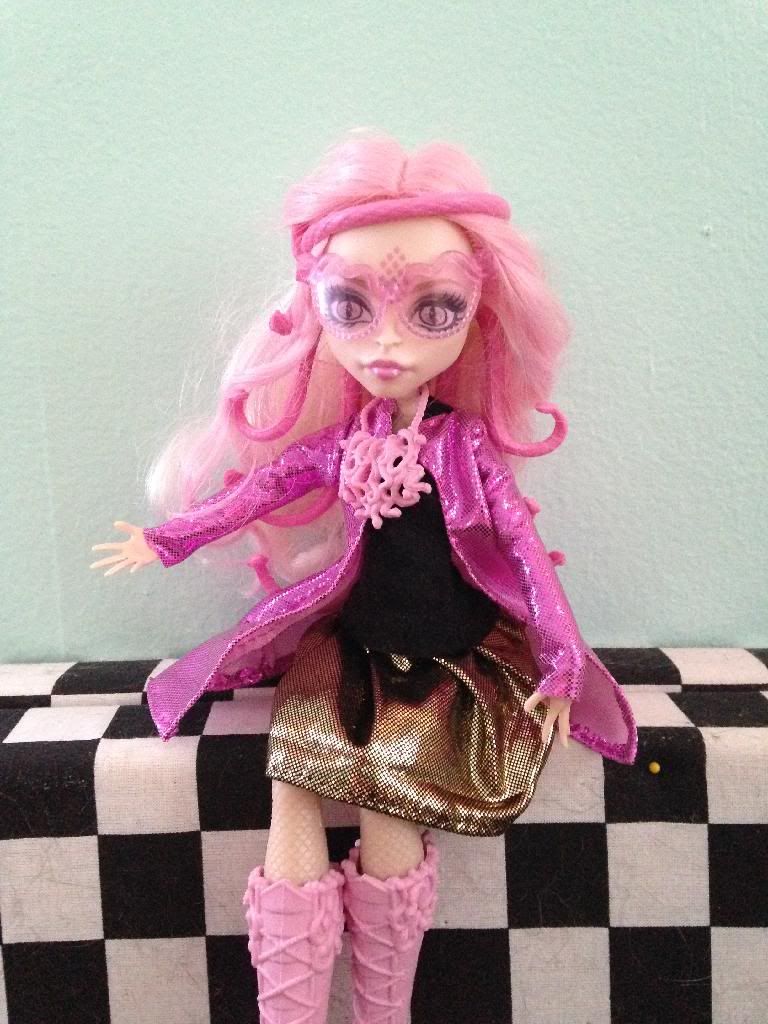 It's pretty glitzy! I found a sale in that pink and gold shiny fabric (oh and I got a lime green too!). Usually I go for a more casual or more elegant style. (Totally proud of myself for that outfit though; all three pieces are knits and I HATE sewing knit fabric!)

I too am dying for a new Ghoulia. One of my favorite dolls is my Dawn of the Dance Ghoulia, who was my grail doll. I got her just before Christmas: I got her on eBay for less than $30 shipped (complete with all accessories!) I really need a rerelease of her "basic" doll.


---
RE: General chat thread for Monster High - Alina_Mau - 02-13-2014 12:01 PM

Sevie I love the colors :o

Today I hit the dollar store and picked up some baby cloth wipe things and a fleece baby blanket that I plan to use to make either pj's or bath wraps? not sure which yet, the fleece blanket is going to make a robe though I know that much, looks like it might even be big enough to make 4

---
RE: General chat thread for Monster High - Laspyra - 02-13-2014 10:19 PM

I love Viperine! I am so far behind when it comes to Monster High. I stopped trying to buy every single one because it was just way to much for me. Plus I started collecting late, so all the earlier wave ones I missed out on pretty much. I only try to buy my favorite characters now. Rochelle is at the top of the list, then Catrine, Howleen, Cupid and of course the boys. lol. I still don't have the stupid Justice exclusives. I say stupid because I think it's dumb for a store to make exclusives only to not keep up with demand and keep them in stock. So frustrating. I really need the Rochelle and Holt of that line. Not only that, but my area is hugely scalped unfortunately. So any exclusives usually get picked up by the scalpers who are there at the crack of dawn everyday. I personally don't have the resources to check every morning or I would. I need to get Viperine as well. She's so pretty, another favorite of mine. Oh and the Target Exclusives Draculaura and Frankie Sweet Screams because they are incredibly awesome and I love them so much.


---
RE: General chat thread for Monster High - TrueFan - 02-13-2014 10:42 PM

I was not as impressed with Sweet Screams in person as I expected. I'm waiting for a sale.


---
RE: General chat thread for Monster High - Laspyra - 02-13-2014 11:43 PM

Oh really? I have yet to see them in person. I am also waiting for a sale lol. Well, I haven't been able to check Target for them yet since they came out either. lol. I never get to go to the store. =/ (hehe) Frankie seems like one you have to pick out in person always. She always has wonked eyes. One bigger than the other or what have you. Sad really.

I've been lucky mostly with the dolls I've ordered from amazon. Twyla was the only one who wasn't very good. Her bangs are messed up pretty bad. I keep my Monster High dolls in the box, but I'm so tempted to take her out to fix her bangs lol. But at least her eyes look good. I'm so tempted to release them all. (lol) If I had a place to put them to display I would.


---
RE: General chat thread for Monster High - bermea - 02-14-2014 02:16 AM

Oh, I love the Sweet Screams! The little bit of red in Frankie's hair looks great. I think they are some of my favorits!


---
RE: General chat thread for Monster High - Alina_Mau - 02-14-2014 09:21 AM

I'm so on the fence with Sweet Screams. I only collect one doll for each character based on hair and face up preferring a look that can fit with both casual and dramatic outfit looks. That generally means that sweet screams doesn't fit with my collection but as a long time Tim Burton fan they just seems so perfect! I feel like I'll probably wait till Christmas or something and hope that I can get them on sale by then.


---
RE: General chat thread for Monster High - Severity - 02-15-2014 04:32 PM

Neither Draculaura nor Frankie are my favorites -- I have a couple Draculauras (I love her & Clawd together, so I have their two sets). The only Frankie I have is a custom. I'm really not fond of the sweet screams girls...but I really need to comb bay and see if anyone is selling Draculaura's little candy bat! I love bats and that pink one is so cute! Haha.


---
RE: General chat thread for Monster High - Laspyra - 02-20-2014 11:05 PM

So I finally was able to go to Target, and they did have some sweet screams dolls there. I usually like Draculaura more than Frankie, but man.. all of the Draculaura dolls had eyes that were gigantic! They looked way off and weird for Draculaura. Not what I'm used to with her. I love their outfits though. There were also had a couple Viperine dolls. I was pretty shocked to see them too. She is such a beautiful doll. At any rate, I wasn't able to get any of them at the moment. But hopefully I will be adding Viperine at least soon.


---