Inspired by a number of factors, including
influencers
here at this forum, on Flickr, and on Instagram, I recently (mid-September 2018) purchased my first... and then a second... Smart Doll. Until now, due to pesky "real world" necessities, I have not had time for a properly photographed unboxing of my first Smart Doll. (A quickly snapped series of unboxing photos of my
second
Smart Doll appears in the previous post in this topic.)
So finally, here she is: Smart Doll Symphony, in the "tea" skin tone: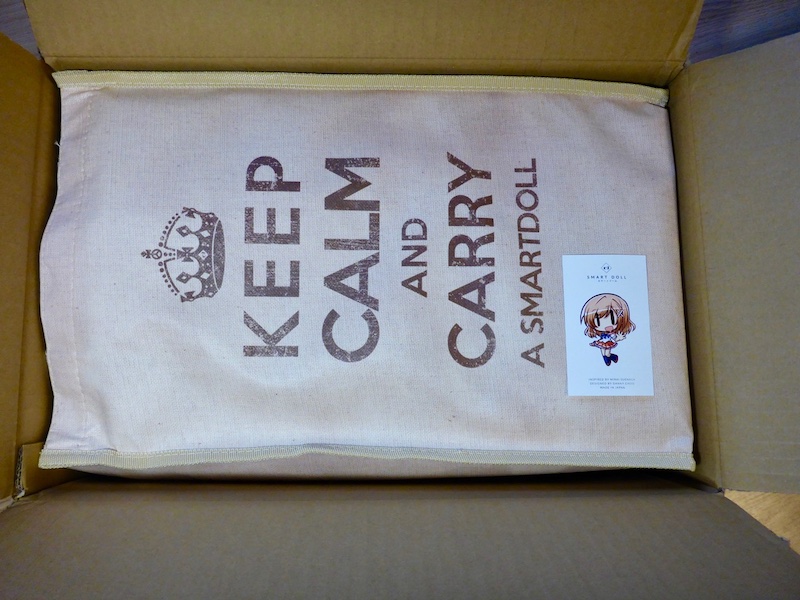 Smart Dolls arrive packed in a canvas tote bag inside a sturdy cardboard box.
Unlike when

Missy_Crane

purchased her Smart Doll, the current dolls
no longer include the Japanese language study card or a vinyl sample for
testing fabrics for staining. The card pictured here is a simple instruction card
with tips for caring for the doll, including the warning: Do Not Feed Smart Doll After Midnight!
The tote bag is also different, now bearing a single-color "Keep Calm and Carry a Smart Doll" logo
instead of the multi-colored "chibi" illustration.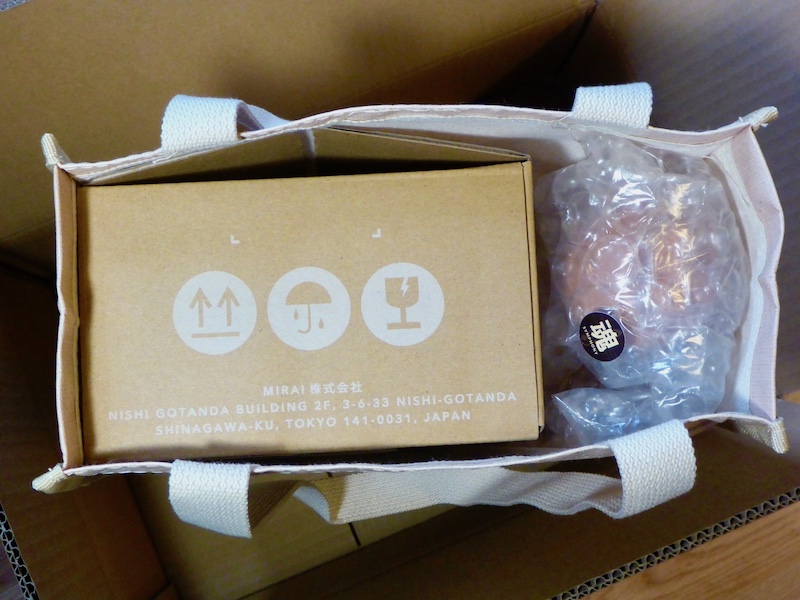 The canvas tote bag contains the Smart Doll, securely wrapped in plastic bubble wrap,
and a cardboard box containing her (or his... they make guy dolls too) wig, accessories, and clothing.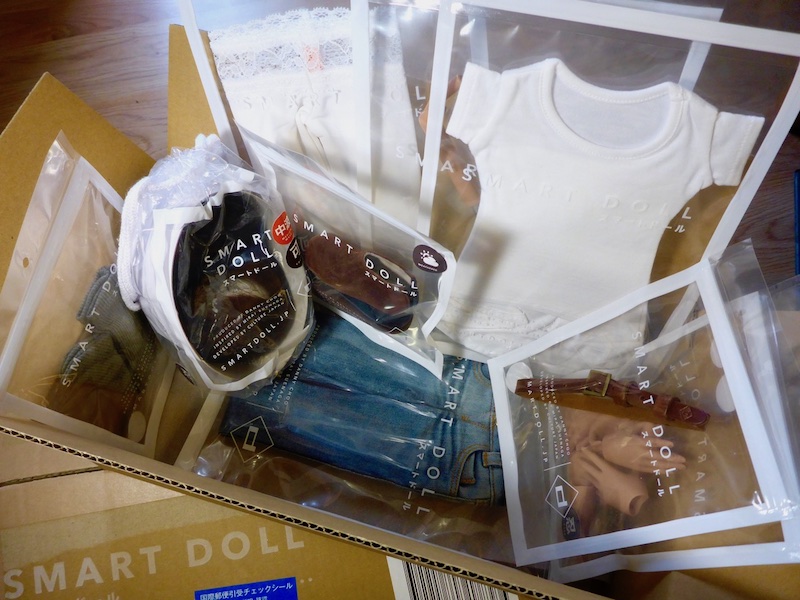 The cardboard box contains clothing and accessories. I purchased the Default Apparel Set with my order,
which at the time consisted of a white top, blue denim jeans, white stain-prevention
leggings, and brown ankle boots. Additionally, I purchased a brown leather belt, a
pair of socks, and a set of extra hands. Also enclosed in the box are the doll's wig and a stand.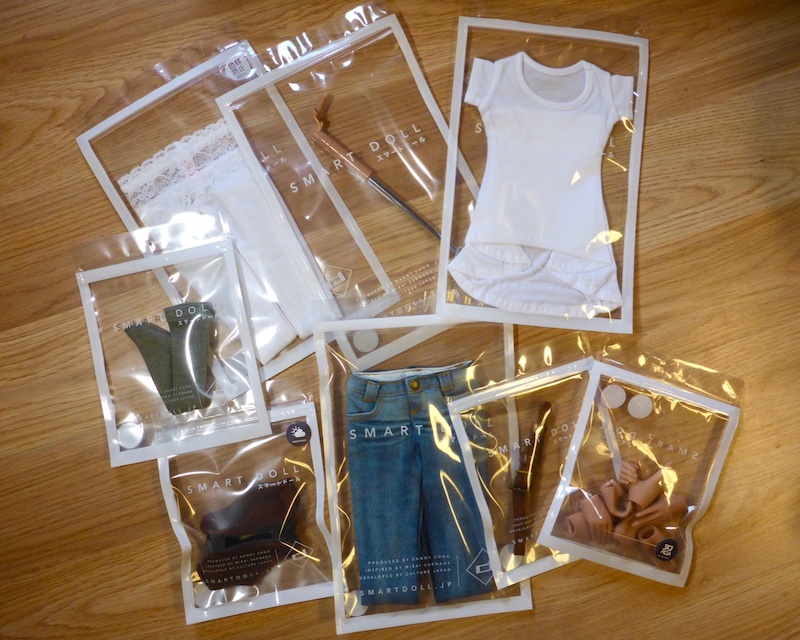 This is the Default Apparel Set available at the time of my purchase: white top, blue jeans, stain-prevention
leggings, and brown low-top boots. The belt, the socks, and the hand pack are additional purchases.
The stand is included with the basic doll.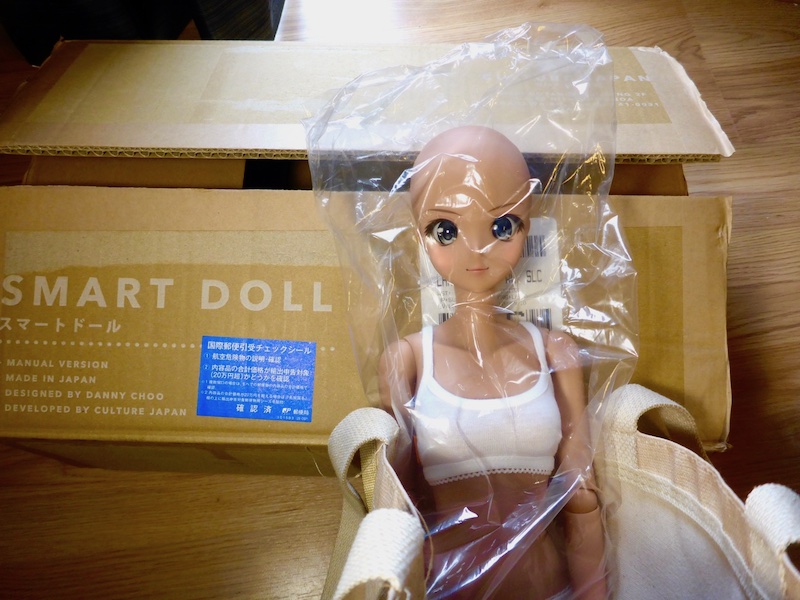 Smart Doll Symphony with the outer bubble wrap removed.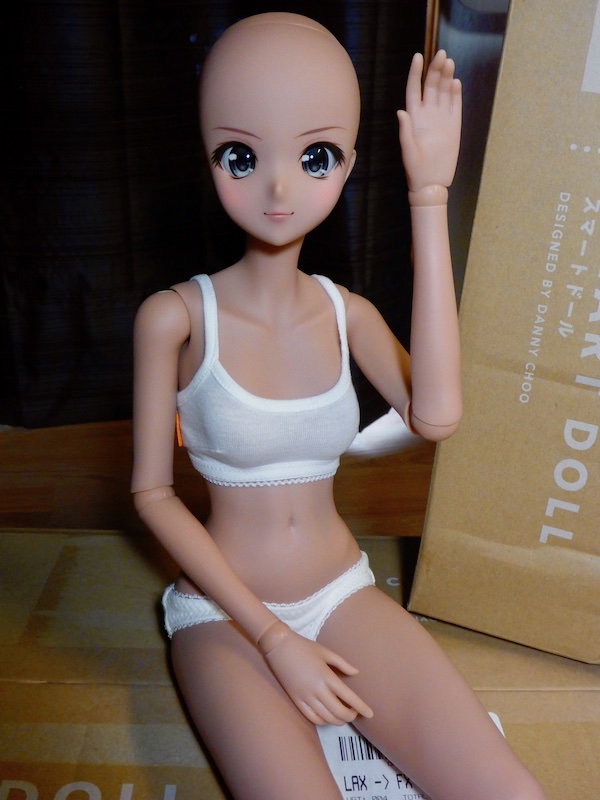 Say "Hi" to Smart Doll!
A basic Smart Doll arrives wearing the clothing seen here:
a white sports bra (not the longer camisole as in

Missy_Crane

's post)
and white panties.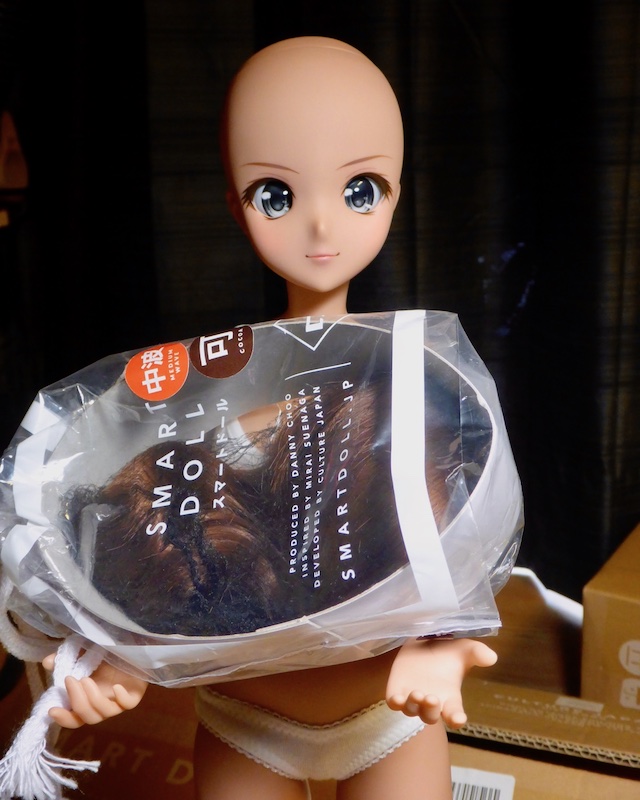 The Smart Doll wig is packaged separately. An elastic wig cap fits over the doll's head.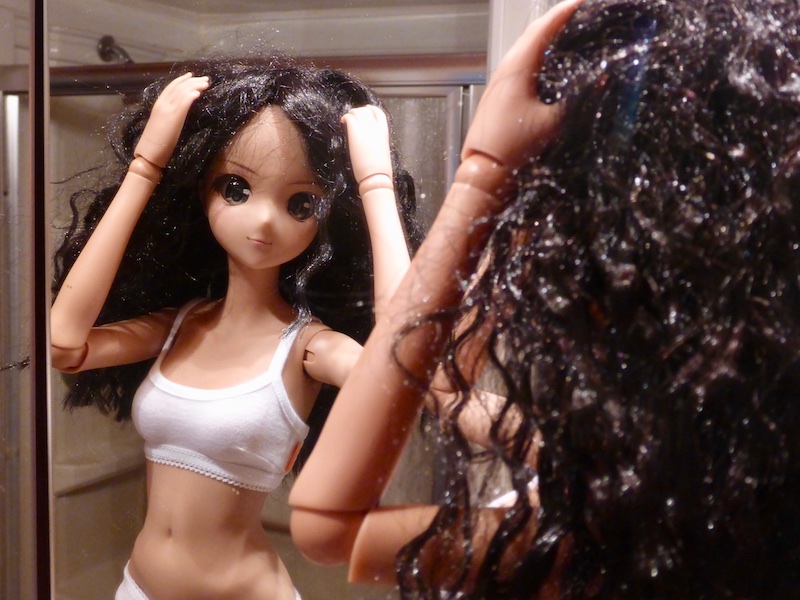 "Wait... no! Just... no! This is NOT what my hair looks like in the web site photos!"

I was just messing with her; that's a Taeyang Captain Hook wig. I kinda like it,
even if Symphony doesn't seem to. But since I ordered her on September 19,
International Talk Like a Pirate Day, I'm sure she has more than a hint of pirate in her!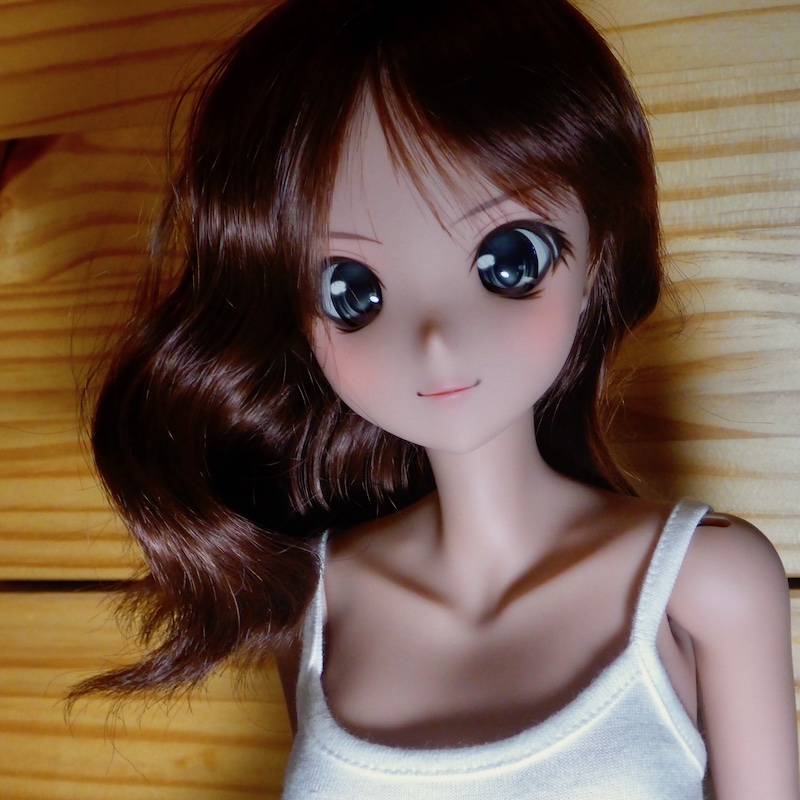 Okay, real wig now. (I found putting the wig on properly to be challenging, even after watching
the "How To" video on the Smart Doll web site. I think the center part may be slightly misaligned.
But it could just be me. Besides, tousled hair gives her character; or we could always go back to the Cap'n Hook wig!)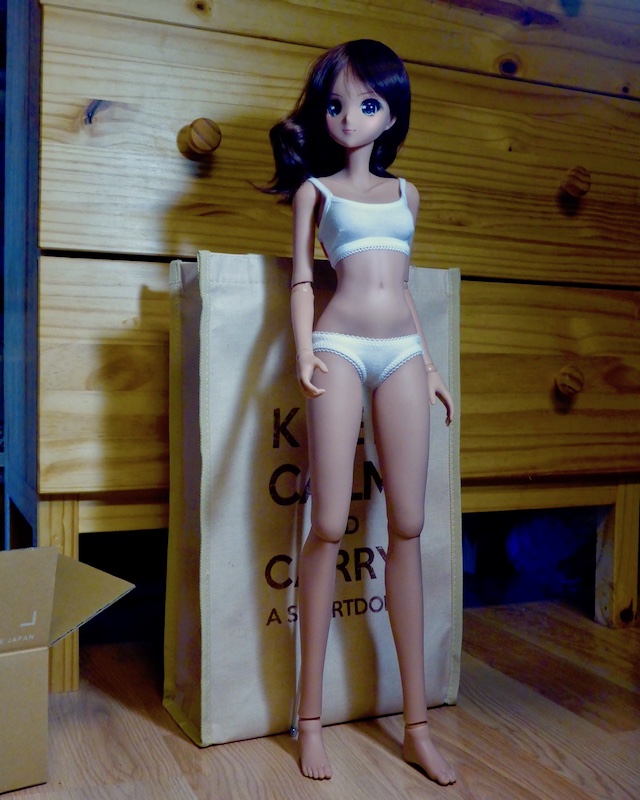 And here she is: a basic Smart Doll in all her under-dressed awesomeness!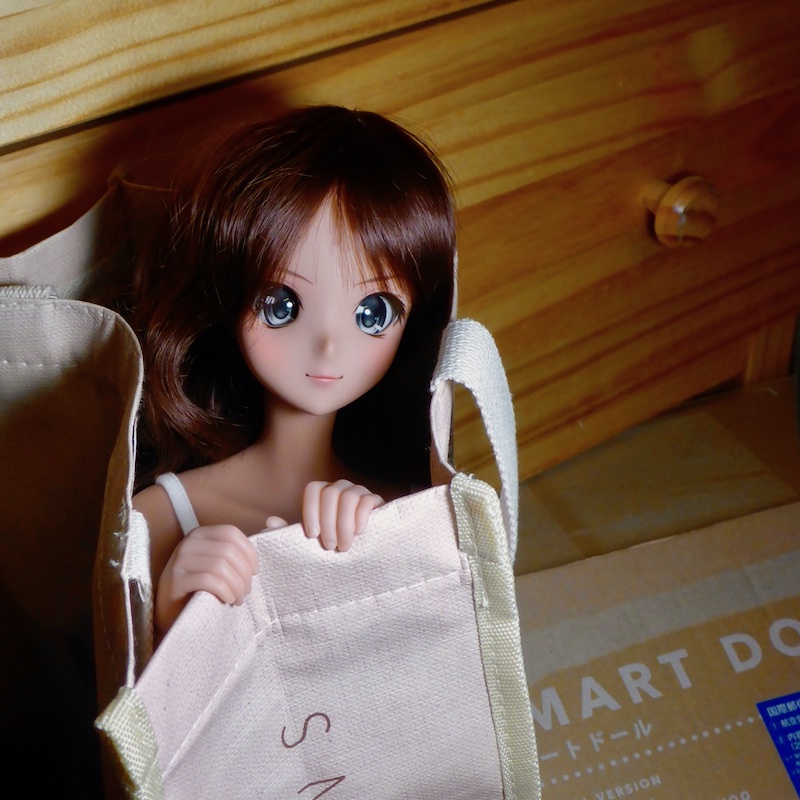 Smart Doll Photography Tip No. 1: an Emerging From The Tote Bag photo is a required element for every new Smart Doll
introduced into an Instagram photo stream. Look through almost any Smart Doll photo account and you will find
Emerging From The Tote Bag photos. It's one of those "gotta do it" things.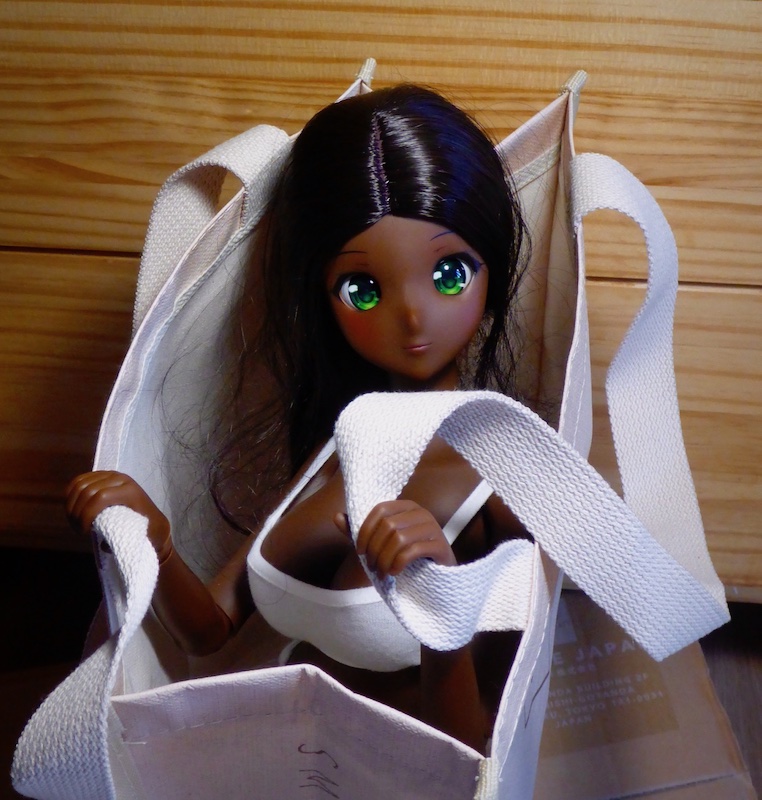 Oh, look! Here's Symphony's friend Harmony in her Emerging From The Tote Bag pic!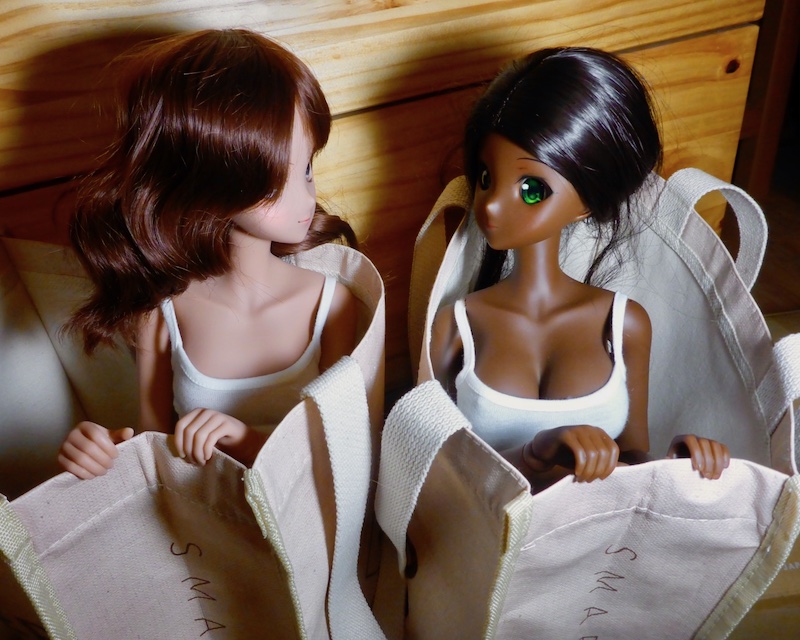 It's a Two-Fer! Double Tote Bag Emerging Smart Dolls!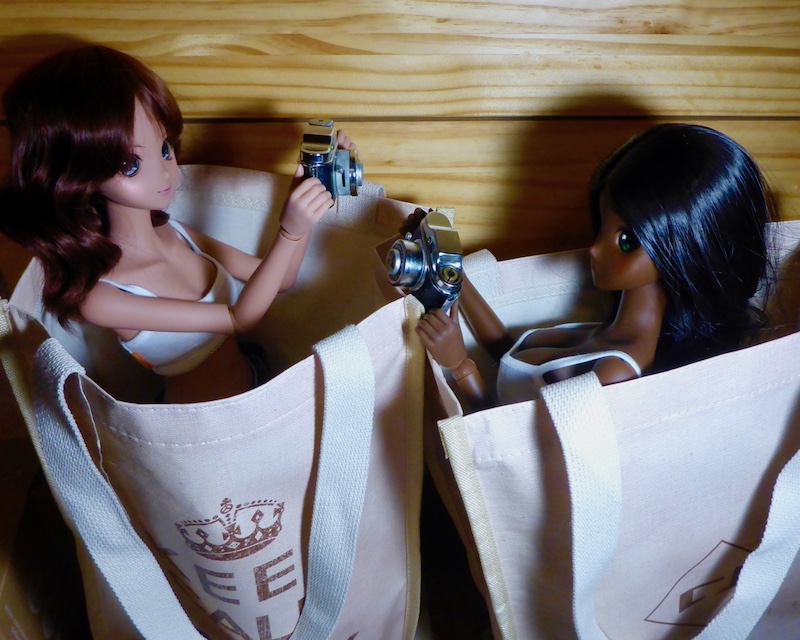 "We totally need to take pictures of this to post to Instagram!"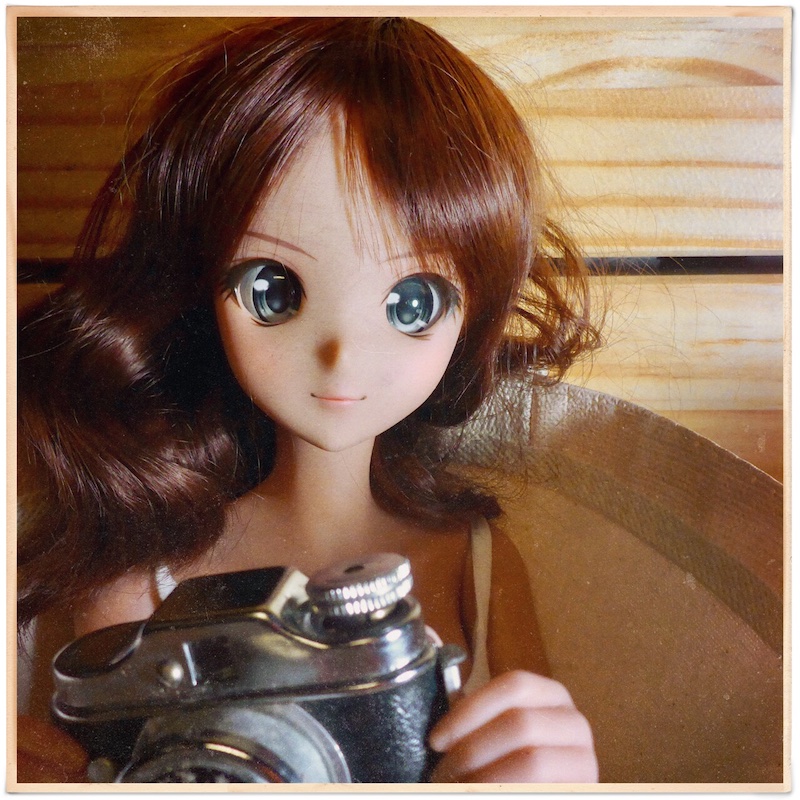 Harmony's snapshot of Symphony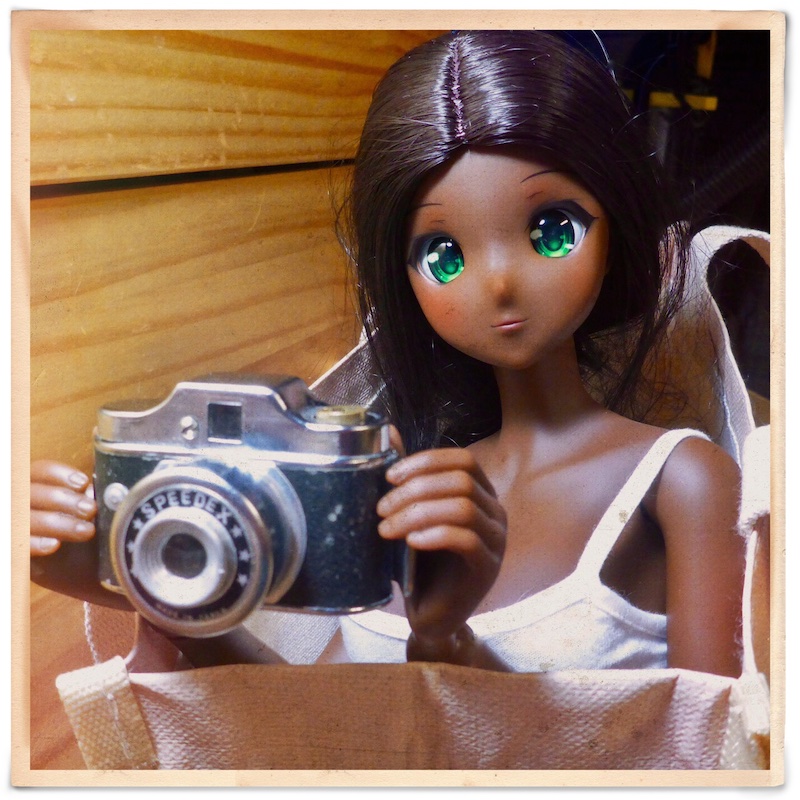 Symphony's snapshot of Harmony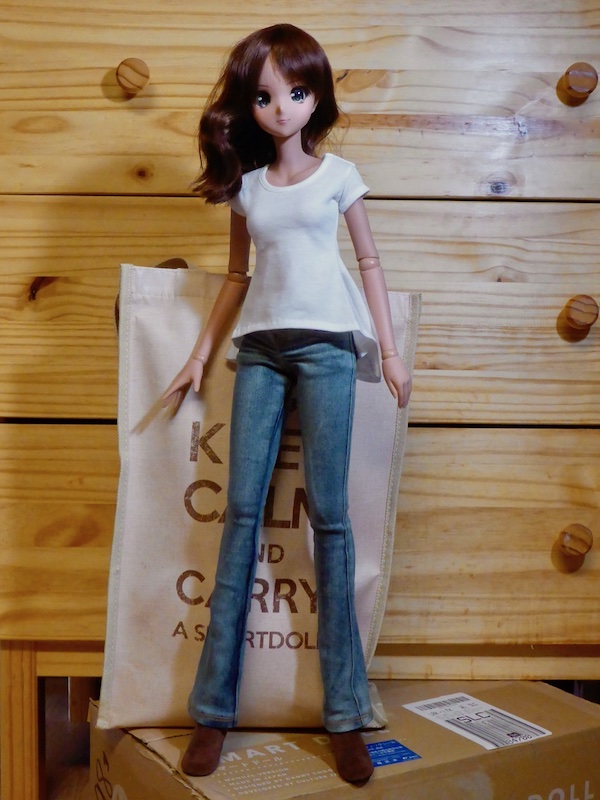 Smart Doll Symphony wearing the September 2018 Default Apparel Set
(Items included in the Default Apparel Set change from time to time.)
They're not dolls, they're
action figures!