(05-16-2021, 02:06 PM)

Elfy Wrote: Maybe they can try and see how many dolls they can fit in the phone box, which I have to admit is a great prop.
Now
that
is your most brilliant suggestion yet!
The phone box is a Bratz accessory.
(05-16-2021, 04:01 PM)

Lejays17 Wrote: The shot witb Triv & the set is so interesting from a perspective point-of-view.  I;m always surprised as to how big the smart dolls are compared to the regular play dolls.  And photos like this point it out so well.

calling for reinforcements - the mind boggles a bit at that - are they to fit on the bed too, or to evict the current occupants?
Everyone
will fit on the bed! The bed is like a TARDIS, only with more pillows!
Yeah, "twice as tall" as a regular fashion doll actually means 2x in every dimension. When seen side-by-side, the Smart Dolls appear
much
larger relative to the 11-inch dolls than the numbers would suggest.
(05-17-2021, 03:05 AM)

Alliecat Wrote: Haha, it's fun seeing this little scene of dolls on a bed spiral out into a story.  
My guess is she's going to call in the red demon girls.  Or maybe some of the army guys.
Those are pretty good guesses! And pretty good ideas! This could go on for ages!
---
16 May - A Doll A Day 2021: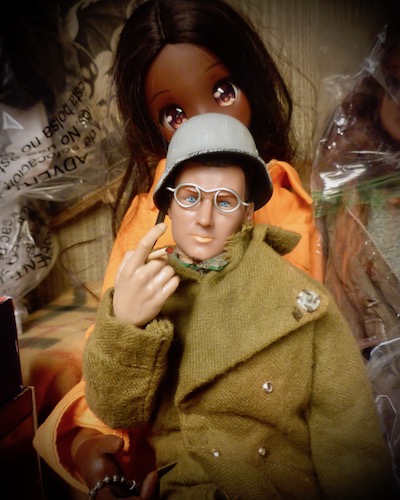 16 May - Eyeglasses for the German guy
Bent piece of wire for eyeglasses. I don't want to spend money on actual doll-sized eyeglasses.
I wish I knew how to make cool stuff that, y'know, looked cool, not crappy. There are lots of excellent doll and diorama crafters online who seem to be able to make anything, and make it look good. I am not one of those people.
And I'm tired and lazy and busy today, in roughly that order, hence the break from the "bed time story."
They're not dolls, they're
action figures!