(06-27-2021, 03:05 AM)

Alliecat Wrote: I'm impressed that you take time to take doll photos in the middle of projects.
Perhaps that's a contributing factor in my multitude of unfinished projects.  

---
27 June - A Doll A Day 2021: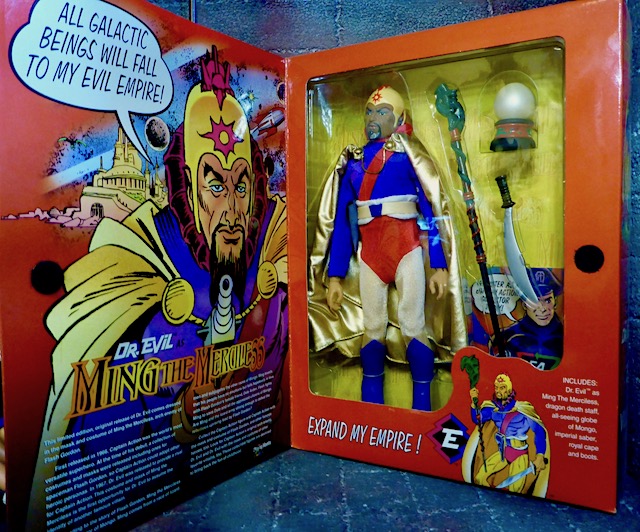 27 June - Playing Mantis Doctor Evil as Ming the Merciless
Sometimes the packaging is nicer than the figure. Sometimes the figure loses a lot of its appeal once removed from the packaging. Then what do you do? 
This particular figure is over twenty years old, having been released in 1998 or 1999. I feel guilty when I open mint-in-box toys that are nearly a quarter of a century old.
But... I bought it to open. I bought it to use the figure and some of the accessories in my photo-story projects. And... even though it is mint-in-package and over twenty years old, these things are a dime a dozen on the secondary market. Well, not quite a dime a dozen, but you can find plenty of them on eBay for about thirty bucks (US money); including shipping, if you're patient. So it's cheaper than a new doll, and it's not like opening the box will deprive the future of a rare and valuable collectible. In the future, probably fewer people will be interested than care about them now, so the value is just as likely to decline over time.
However, it's a
really
nice box. But I don't really have the space to store a bunch of cardboard doll boxes.
Decisions, decisions! I often find this doll and toy hobby to be frustrating, with little things like de-boxing causing me significant stress.
Maybe I need to get some
real
problems in life to put things like this in to perspective.
No... wait... bad bad BAD idea! Don't wanna do that! Don't even wanna joke about that! The last couple of years have been enough.
I'm gonna go unbox this thing right now. I'll keep the clear plastic front from the box to make windows in my dioramas.
They're not dolls, they're
action figures!