29 June - A Doll A Day 2021: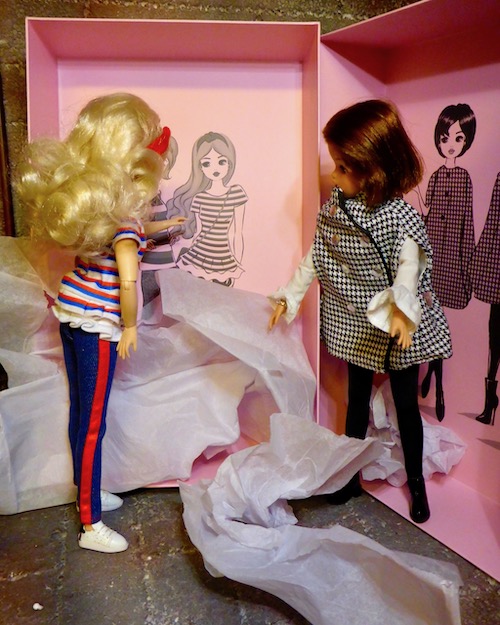 29 June - "Oooh, look! Drawings of us!"
Numbered limited editions or not, I was going to discard the absurd quantity of packaging in which these new Kid Kreations New Sindy dolls arrived... until I discovered the adorable drawings inside the lids!
Nearly the entire contents of the enormous boxes in which these dolls are packaged consists of... more boxes. All the accessories for the two dolls fit neatly in a sandwich-size Ziploc bag.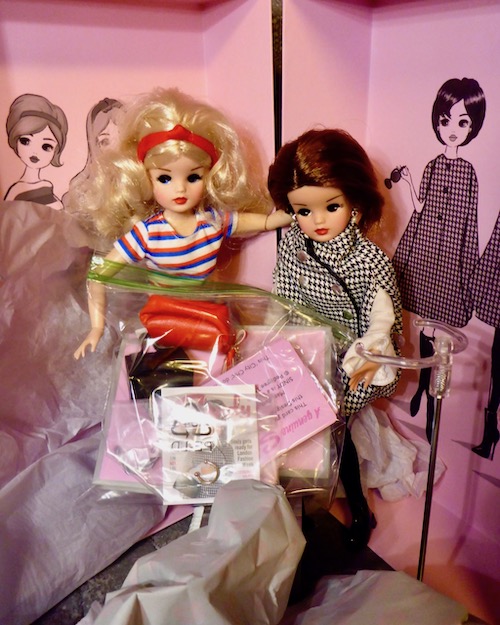 "That's it? That's all we get?"
The dolls arrived in a plain brown shipping box, in which was an outer box featuring the Sindy logo. Inside the Sindy-logo box was a fancy glossy box, pink and silver, wrapped in Sindy-logo tissue paper. The glossy box was labeled with the doll version: City Chic and Weekender in this case. Inside the glossy box (which has the cute drawings on the inside lid) was another layer of heavy tissue paper, almost like waxed paper. The doll and stand were wired to a cardboard liner inside the glossy box. In addition to the cardboard liner were three additional small cardboard boxes containing the accessories: a handbag in one, a little paper magazine in another, and a gold necklace for one doll (single piece of chromed plastic) and sunglasses for the other. There was also a cardboard identification card, wrapped in plastic, denoting the "limited edition" number of each doll. Out of a limited number of 1,963 (the year Sindy was introduced; clever, huh?), one of these dolls was 1000-something and one was 500-something.
It just occurred to me now that it would have been interesting to weigh the contents of the boxes and then weigh the empty boxes. I suspect the mass of the packaging material is greater than that of the contents.
I'll keep the glossy boxes with the illustrated lids, but the rest of the stuff has gotta go! It's not like I'm ever gonna sell these things, and the long-term cost of storing all the packaging material would probably exceed any potential future profit anyway.
I doubt there will be any future profit. Of the six New Sindy limited edition releases, only one has sold out; and it's not one that I have.
They're not dolls, they're
action figures!