(07-01-2021, 05:47 PM)

Lejays17 Wrote: I was thinking you were doing old-school Vaseline on the lens, or maybe shooting through gauze.

The amount of excess packaging in dolls is… excessive. 
I have read about those techniques, back when I used to read books and articles about film-making. But no, this time the smeary... I mean
dreamlike
effect was unintentional.
Yes, packaging seems to be of paramount importance in toys and dolls, whether "collector editions" or "playline" these days. I think it is to distract us from how little we are actually purchasing with our money.
Speaking of excessive... but pretty cool... packaging:
1 July - A Doll A Day 2021: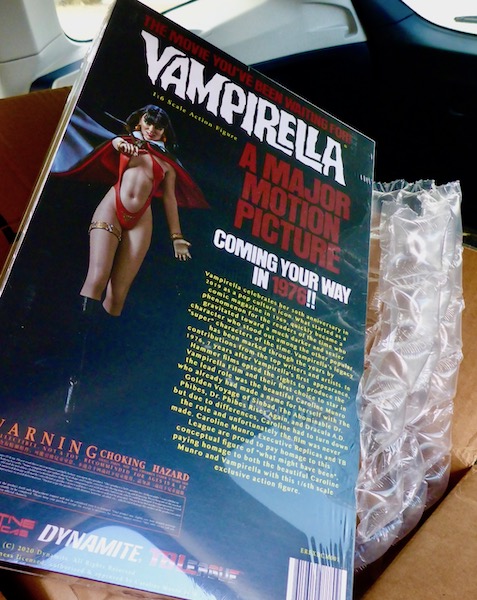 1 July - TBLeague Vampirella - Caroline Munro Edition
The comic book character Vampirella was created by the staff of Warren Publications in 1969. By the early 1970s the character, brought to illustrated life by artists Frank Frazetta and Jose Gonzalez, had become popular enough that planning began for a live-action motion picture. Actress
Caroline Munro
, known for her eye-catching roles in horror, sci-fi, and fantasy films, was initially tapped for the starring role. Unfortunately, the project never progressed beyond the early pre-production stages. Munro dropped out, other actresses were cast before also leaving the project, and the project eventually collapsed, but not before various "teaser" advertisements had appeared in the film industry press as well as in several Warren Publications magazines.
This TBLeague version of the Vampirella character is based on the movie that never was starring Caroline Munro. The box art closely duplicates the pre-production advertising and poster art mock-ups from the unproduced film, and the head sculpt for the figure is based on the actress.
Uncharacteristically, I almost immediately opened the parcel upon arrival, at least partially. The large shipping box felt somewhat lighter than I would have ex-pected relative to its size, so I wanted to make sure the contents were correct. I have yet to unbox the actual figure. Who knows when, or if, that will happen. The way things have been going in the seamless market over the past year or so, it might be worthwhile to set the box aside and wait until the initial run is sold out. Some of the TBLeague figures escalate to astonishing prices shortly after the initial stock is sold.
However, this particular figure seems to be lingering on the market longer than others. I suspect the optimum "target demographic" for this character, and especially for this
version
of the character, has aged out of the actively collecting phase. In a few years, if not already, those who were teens and early twenty-somethings in the mid-1970s will be selling off their collections; or trying to, only to discover that the former '90s kids, as they reach peak earning power, prefer Teenage Mutant Ninja Turtles or Care Bears over relics from the '70s like Vampi... or Darth Vader. Only a few oddball fans of kitschy old movies, magazines, and comic books might be interested.
Meaning... I'll eventually open Vampi-Caroline, probably some time prior to Halloween (which is already coming our way at mind-boggling speed).
They're not dolls, they're
action figures!