(07-04-2021, 01:49 PM)

Alliecat Wrote: OK, is that a photo backdrop, or...?


Everyone is allowed to have messy hair when they've been pushing their way through giant flowers  You should see mine by the time I finish working in the yard


Samantha greatly resents that remark.
Yes, one of the guys on an action figure forum sent me an airplane photo to try as a background image. 
I'm sure we would all love to see your messy hair after a yard work session. Do please post that image for us, won't you?
So Samantha's response to the remark about Dal's looking petulant and snarky was... to act resentful, in addition to petulant? I'll add that to the list next time. 

(07-04-2021, 02:59 PM)

Elfy Wrote: To answer the question from davidd, yes Lejays and I are watching Le Tour. Her more than me. It tends to get good at about the time I find the need to sleep, she's more of a night owl than I am.
Oh, that's right, LeJays prefers to watch "live" in real time. That would be problematic for me, so I record to watch later. Yesterday's stage was classic: guys riding bikes in apparent slow motion up a steep hill in the rain. And I didn't even fast forward through any of it!

---
4 July - A Doll A Day 2021: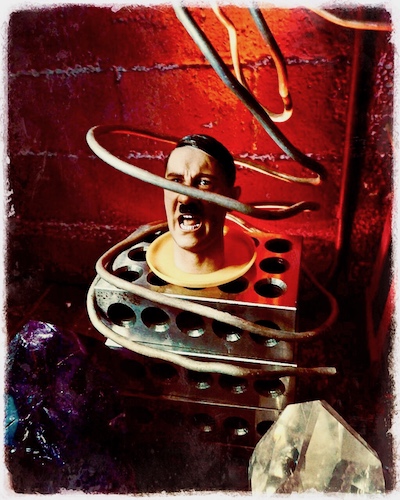 4 July - Screaming Head
On the website where I found this action figure head - for cheap - it is identified only as "Screaming Head." Apparently there are certain words, phrases, and names that can no longer be used online, even on hobby websites specializing in historical and military figures, for fear of being "de-platformed."
They're not dolls, they're
action figures!