(07-05-2021, 10:18 AM)

Alliecat Wrote: Alas, there are no pix of scruffy-after-garden-work me.  Nor am I inclined to post the high-fashion bug suit.
Sounds newsworthy to me, there, Star Reporter! 

---
5 July - A Doll A Day 2021: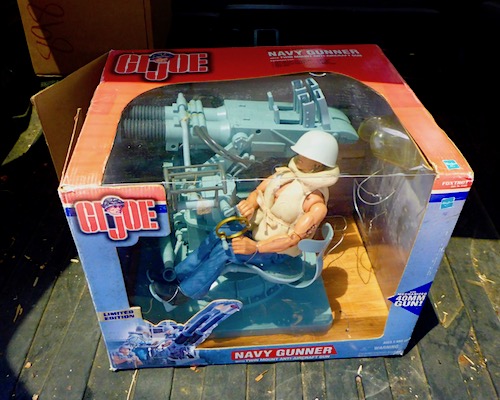 5 July - Hasbro GI Joe Navy Gunner Set
A
circa
2000 release, but a recent eBay acquisition for me. Pre-owned but complete... to go with my pre-owned but incomplete example. Double the firepower, double the fun, right?
Even with this impressive weaponry at his disposal, poor ol' Joe will likely find himself overrun and displaced by Sindy, Pullip, and the Monster High ghouls.
Oh, and Maxie. Maxie says "don't forget Maxie." But rumor has it that Sindy will be assigning Maxie to the first wave of the assault, so...

They're not dolls, they're
action figures!