(07-14-2021, 02:45 PM)

Alliecat Wrote: Whaaat. ... Holy crap.

However, with all the restrictions and "rules" and "requirements" coming into effect for travel, some of us aren't feeling very optimistic.
I know, right? New one on me!
Yeah, the federal administration here is pressuring the state governments to re-implement lockdowns and mask requirements even as the vaccine rolls out and cases and deaths continue to decline.
(07-14-2021, 04:02 PM)

Elfy Wrote: Prairie dogs have plague? Snoopy will be devastated.
Imagine all the little monsters scampering about, foaming at the mouth, sinking their fangs in to anything that moves!
(07-14-2021, 05:47 PM)

Lejays17 Wrote: Carly has taken up fossil hunting?  Look forward to seeing what exciting thing she has discovered soon.
I was hoping to post Carly's interesting discovery today, but... busy etcetera... the usual story.
(07-14-2021, 07:55 PM)

Loona Wrote: Ohhh kayyyy, so... wasn't Plague... eliminated? Extinct? Whatever you call a virus that is no longer found on Earth?

At first I found it funny how the staple on the ad is placed where the rodent's mouth is, giving it a displeased smirk, but the more I think of it, the more morbid I feel about finding something connected to such a topic funny :/

... so the sister trip to the UK we've been planning since before this crap hit, will have to be postponed further, for who-knows-how-long...
Apparently not. 

I still found the staple amusing even after reading the sign. In fact, the staple placement makes it hard to take the sign seriously.
Who knows how long – that's an ongoing question with a lot of conflicting answers, isn't it?
---
---
14 July - A Doll A Day 2021: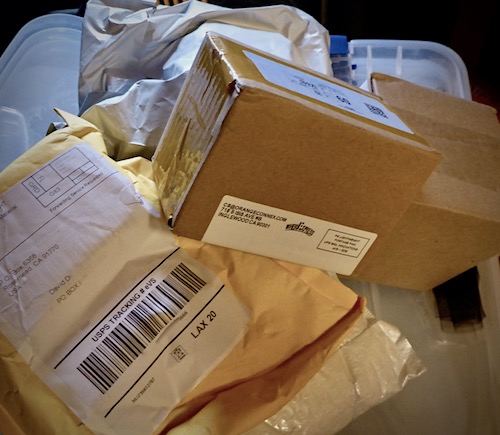 14 July - Dolly Stuffs in da Mail!
All this showed up today. Most of it is doll related... somehow... I think.
I'm not sure why my recent photos all seem to be blurry. Of course, my first thought is degenerative neurological disease. But if I can still type "degenerative neurological disease" (in only three tries) that's probably not the case. Could be a mechanical issue with my camera. Or perhaps it's a result of poor lighting and being in a hurry, and thus the slow shutter speed (real camera, you know) necessitates holding the camera much steadier than I'm able to do one-handed and rushing.
Relatives were visiting recently. One has the latest Google Pixel phone, and one has the iPhone 12, and the image quality of the photos they take is amazing. I think the days of dedicated cameras are well and truly done. Except that...
the cost of those phones!

P.S.: This pic doesn't even show the two
larger
boxes that arrived!  

They're not dolls, they're
action figures!