(08-28-2021, 07:23 PM)

Lejays17 Wrote: ... and also the Clawdeen - is she a specific line, or is her armor from somewhere else?
The Clawdeen is from the Monster High Power Ghouls line. Her character is called Wonder Wolf.
---
29 August - A Doll A Day 2021: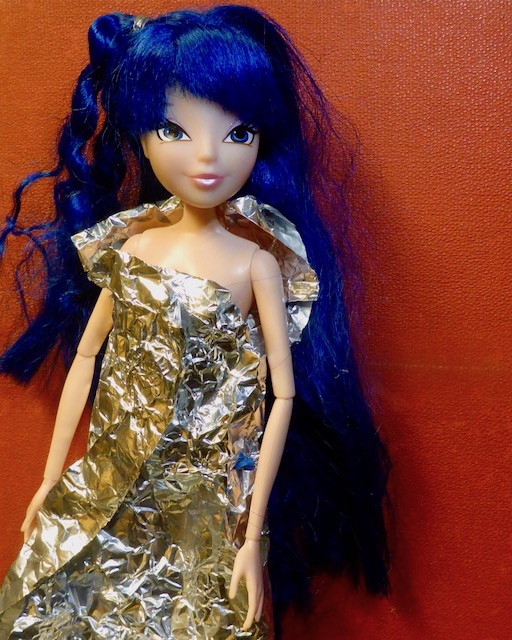 29 August - Curses! Foiled Again!
Jakks Pacific Winx Club Musa doll. I think I still have her costume somewhere... but where? That's what she'd like to know! And what's with the foil? Why is she not
wearing
her costume? I honestly do not remember the circumstances that resulted in her becoming unclothed... unless... is she one that I purchased pre-owned and unclothed? I know that Musa was one of the more challenging figures to find. I don't recall ever purchasing an unclothed Winx Club doll, but then, there are a lot of things I seem to be having trouble recalling these days.
Ohhhh! I researched this mystery using my own Flickr photos. Musa - Concert Collection Musa - was last seen in her original outfit back in 2012. Nearly a decade ago! I didn't really realize I'd had her this long! My, how the time flies! Apparently she traded her costume in for a Pullip outfit: later in 2012 she was wearing a Pullip Neo Noir costume. She does not appear again in photos until 2018, rather a long hiatus, when she is wearing nearly nothing. The old photos, however, have helped me identify her missing costume pieces. An Integrity Toys Dynamite Girl is wearing her top. I saw her blue shorts in a box just a few days ago. They had been borrowed by a Bratz fig for a while. I'm not sure what has become of her metallic red skirt or her black boots. Maybe the Dynamite Girl is wearing the boots, too, I'll have to check.
They're not dolls, they're
action figures!