(12-11-2021, 05:12 PM)

Alliecat Wrote: But I believe that time spent in creative endeavours that feed your soul and bring a little joy is never wasted time.
PTFCo intends to continue with pic-a-week next year… at least as long as the year lasts…! 
The Pinkys are great little travel pals… Perhaps along with the salt they will find a frozen concoction to help you hang on.  
Your observation has inspired me to continue. I probably wasn't going to quit anyway, although it was a close call. But your comment makes the doll picture thing feel a little less frivolous and pointless. Good to know that PTFCo will continue; I laughed at "as long as the year lasts." It certainly feels like End of the World Prophecy is coming true, doesn't it?
Ha! Nice Buffet reference! And yes, The Pinkys have been traveling for quite a long time now, and they are feeling quite incensed by the global situation. They had
plans
, man!
(12-12-2021, 10:39 AM)

Elfy Wrote: At this stage I'm continuing with Doll a Week into 2022. It's a fun creative outlet, and the dolls lives are often so much more interesting than our own.
Yeah, the dolls manage to have adventures when our own are curtailed, don't they? Another commitment to continuing - YAY!
(12-13-2021, 07:12 PM)

Lejays17 Wrote: The Pinky's look very determined & getting through whatever it is.
The Pinkys have managed to overcome a number of adversities over the decades. They set a good example.
(12-15-2021, 06:24 AM)

Alliecat Wrote: The lights look great. How nice thinking about sitting on a deck with pretty lights outside, this time of year.
Did the random head get to come home with you?
(12-15-2021, 06:35 AM)

Lejays17 Wrote: The twinkly (and not twinkly) lights all look great.

Did the doll-head have that arrangement of leaves when you saw it, or did you do some arranging?
(12-15-2021, 08:15 AM)

dargosmydaddy Wrote: I hope you rescued the head...
Yeah, the lights are fun. They gradually change color from colorful to warm white and back again.
The head looked exactly like that with the leaves. The photo is completely "as found." I was reaching for the head, planning to pick it up and take it home, but... it looked so
at home
already, there, with its leaf body, that... well, it was also in a parking lot, where it would likely get run over, so I carefully moved it to a spot hidden in the bushes where it had a nice view of a pond. So now it is a Nature Spirt Doll, communing with the leaves and grass.
(12-15-2021, 09:23 AM)

Aichan Wrote: I always enjoy your pictures how thoughtful and creative they are . I know they take a lot of work to do.

Maybe you need  a colab with someone that  shares your interest to feed the spark.
Thank you for all your insight and information. I appreciate the sharing and suggestions.
I'm working on a collaborative photo-story project with some people on another forum, but lately I haven't had much time to uphold my part. Hoping things settle down here soon and I can get back to it.
(12-15-2021, 03:54 PM)

Elfy Wrote: Is Janie busting a move there?
She's excited that the lights actually lit up!
---
15 December - A Doll A Day 2021: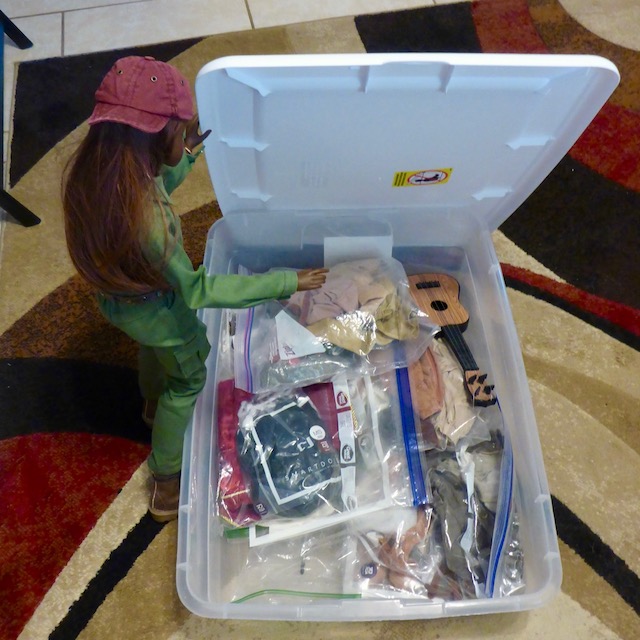 15 December - "Whaa...? You mean... you mean we have clothes other than WORK CLOTHES?"
Addie makes a surprising discovery.
They're not dolls, they're
action figures!