(07-11-2021, 01:33 PM)

Alliecat Wrote: Yes, a dozen (ish) pals.  Once again I owe most of them letters that I haven't got round to because once again I'm dragging my heels on the French ones, because they take longer.
I only had one pal that I could count as 'pages of nonsensical rambling' ... we took turns writing chapters of a story featuring an actor we liked.  I can't remember what it was about and it was pretty awful, but it was fun.
How do you find the time? Well, sounds like recently you're not finding the time! Lack of time spelled the end of most of my pen pal projects. It was usually me who ended up dropping the ball... after years of back and forth. I find that if I put off a letter for too long, I end up with so much I want to say that that it seems overwhelming, so I put it off longer... and then there's even more, and... yeah.
(07-11-2021, 03:53 PM)

Elfy Wrote: I agree with Allie. If it's too hot an orange coverall won't make her feel any cooler.
Perhaps we can stuff the pockets with ice?
(07-11-2021, 03:57 PM)

Lejays17 Wrote: Janie's making a plea to the weather gods?  She doesnt seem to having much luck.

are you in danger from bush/wild fire where you are?  if everything is tinder-dry it must be a worry.
The entire state is under fire restrictions: no campfires, no outdoor power equipment, no lanterns with flames, restrictions on the types of off-road vehicles that may be used.
(07-12-2021, 02:32 AM)

dargosmydaddy Wrote: And she needs to pull her hair into a ponytail or messy bun.
That might look cute, too. I should try it.
---
---
11 July - A Doll A Day 2021: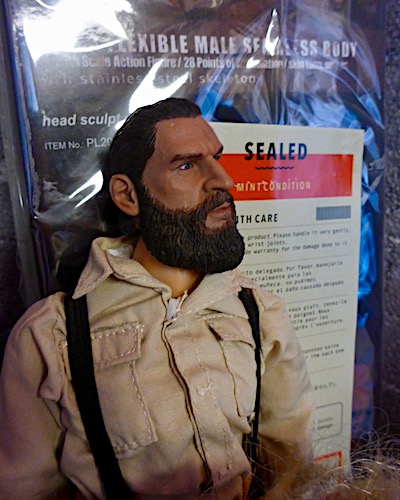 11 July - In a Hurry, Slightly Blurry
This poor guy has been waiting patiently for a body swap for weeks now. Every time... every single time I sit down to work on this,
something
comes up to interrupt me before I even get started. I'm beginning to think this project is cursed.
They're not dolls, they're
action figures!