(12-23-2021, 03:25 PM)

Alliecat Wrote: That's cute too!  I like his face.  Not too goofy, not too weird.  All these little bits of decor have been fun to see.
I wonder if those stick-on "Command" picture hooks are as sturdy as they're advertised to be?



(12-23-2021, 09:49 AM)

davidd Wrote: Do houses in your neighborhood have outdoor showers?

LOL.  
Dude.
It's bleepin freezing.
Only a few hardy tourists & little kids swim.
I'm going to try one of those hooks to hang an inex-pensive plastic clock. If it works, I may try one for the moon, although the moon, being ceramic, is quite heavy, and would break if it were to fall, so I'll probably ultimately go with something more substantial.
I thought you rugged northern types were all in to the naked polar bear swims and stuff.
(12-23-2021, 04:33 PM)

Elfy Wrote: That's great, and it really gives us a perspective on just how small the Pinkies really are.
About 4 inches / 10 cm.
(12-24-2021, 01:35 AM)

dargosmydaddy Wrote: Pinky-on-the-moon is a lovely photo!
Thank you! It's a cute moon, isn't it?
(12-24-2021, 06:16 AM)

Lejays17 Wrote: It's too nice an object to be hidden most of tge time - and we forget how small tge Pinkies really are until photos like thus.
Yeah, I was pleasantly surprised to find the moon hanging on the side of the house.
---
23 December - A Doll A Day 2021: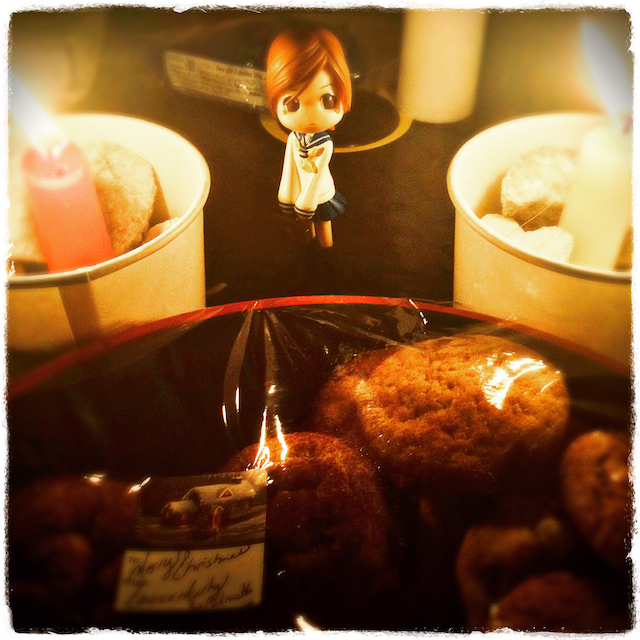 23 December - Just Like In The Olden Days
To my surprise and delight, one of the neighbors brought over a plate of freshly baked Christmas cookies as a "welcome to the neighborhood" greeting. There's actually still a trace of 1950s old-fashioned-ness in this neighborhood of little bungalow houses constructed in the early 1950s.
They're not dolls, they're
action figures!